Social networks for designer career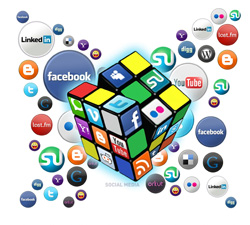 Today's topic, as you already understood, will be connected with the use of social media by employees of the sphere of design and not only. Moreover, unlike the article on useful social networks, the article will deal more with the career of a designer than with his immediate activities. The inspiration for writing the post was the English-language publication 6 of Creative Social Media Strategies for Designers.
In general, the need to develop social profiles for ordinary designers may seem like an extra complexity in work. However, these projects, with the right approach, provide specialists with excellent opportunities, which we will talk about today.
Nowadays, customers and employers often look for pages of potential candidates in social networks in addition to the traditional portfolio and resume. At the same time, competent filling of your "online representation" will show the difference between a promising employee using all approaches and an ordinary ordinary candidate from the list. Below we will look at the 6 main social networks for designers' careers that will help you create a full presence on the Internet: Facebook, Twitter, LinkedIn, Instagram, YouTube, Periscope.
FACEBOOK STRATEGY FOR DESIGNERS
The social network FacebookFacebook is now a project, as a rule, for an older audience. This platform is the place where the majority of users spend maximum free time (including your clients / employers).
It is logical that your public Facebook profile should talk about things related primarily to the design industry. It will also be useful to create a professional Facebook page with your works, useful links, various kinds of designer articles or thoughts on the topic. Here you also add high-quality illustrations / drawings / photos that are not included in the portfolio.
This strategy will strengthen your credibility as a specialist and show your passion for your favorite work. You can even place a small video as a "fixed post" Facebook on top of the page in which to introduce yourself and tell about your designer career, while showing individuality and friendliness. Immediately I recall video greetings designers from the collection «TEN» from Fotolia.
The movie, of course, can be made simpler, but in any case, this approach will add you a few points in front of a potential employer.
TWITTER STRATEGY
Twitter for designerTvitter – one of the social platforms that provide direct access to almost any person in the world. Service is a powerful tool for building relationships, attracting attention and interacting with people directly. In addition, this is a great option for analyzing the social activity of the user.
When you apply for a job, you can find a lot of information about the company, employees, management through individual or corporate profiles on Twitter. On the other hand, try to interact with their publications: distribute (send) notes or ask questions. This approach is quite a long way to build relationships, but will help you when applying for a job in a particular company.
LINKEDIN IN DESIGN CAREER
Social Network LinkedInLinkedIn is a professional social network for a career, as well as a powerful tool for finding new employees. Designers often underestimate LinkedIn, considering the service too ancient compared to modern Instagram and Pinterest platforms. But it is not. In addition to the online resume function, the project gives you the opportunity to creatively use multimedia objects on the profile page, unlike other systems.
The so-called recommendations are used to create trust in the LinkedIn system. In this case, you can insert images and videos under the records of your work experience. Ask past customers to provide a video review about the collaboration and then place it in the appropriate box. The chip is really original and very cool. This approach is sometimes found on company websites, but very few people on LinkedIn use it.
LinkedIn social network for designer career
In addition to video, you can add different images (reviews, reports, examples of work) for projects that you previously engaged in. This will create a more memorable image of "online resume" on LinkedIn compared to those users who simply posted on the page a solid text about their achievements. Visual information is perceived better. You can also make a presentation to potential advertisers about your designer career through Slideshare integrated into LinkedIn.
INSTAGRAM
Instagram network Many designers use Instagram primarily to display their photos and artworks, although there are much more interesting development strategies. If you as a designer are interested in attracting local customers, take advantage of geo-tags for posts. In order to get into the field of view of specific employers or brands, comment on their posts and actively tag them. This will attract attention.