How to choose the best illustrations for your site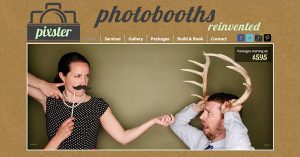 I somehow had a publication about the best free photobanks and photo stocks in which the question was raised where to look for images for the site. Today I want to touch on the topic of how best to do it. The more focused on the development of the site and its design. This post was written with the support of the Wix service for creating websites (or rather, the translation of an article from their blog), so the text will often mention this platform for developing websites. By the way, on the pages of Design Mania you could already read a detailed review of the Wix service.
So, you already have a terrific site on Wix, and now you want to hit its visitors with lively, eye-catching illustrations. Visual content is an incredibly important element in creating a good site. Even if you are not an artist or photographer, you should think about what images to use to be sure of success.
With such a huge choice, you probably more than once had to wonder what images help to achieve the greatest return. Here are some tips to help you choose images that can make your website stand out from the competition.
best illustrations
Pixster Photobooth use funny, catchy shots on the main page of their Wix site
INFORM
The image on the main page is the first thing that visitors see on your site. What can it say about your company? It's a good idea to use large, eye-catching pictures here, as they help form the first impression of your business.
* Tip: with Wix, you can create animated galleries that are able to transfer all the necessary information in its entirety, without taking up much space on the page. Step-by-step instructions on the Wix website will show you how to do this.
best illustrations for your site
Spotlight 3d uses this stylish picture as a background.
INTEREST
The images that you use on the site should encourage visitors to take specific actions. Parris Whittingham, the founder of Parris Whittingham Studio, says that his favorite illustrations are those that "give" something, that is, those that are able to awaken certain emotions. This is the true value of images.
* Tip: think about what action is targeted for your site – leave a donation, share an article, register, buy, add to bookmarks, etc. – and try to pick a picture that can inspire exactly this action.
How to choose the best illustrations
Keys Of Change use beautiful and emotional shots to promote their charitable foundation.
CHARGE ENERGY
Give preference to dynamic rather than static images, i.e. topics that can empower your product, message or your personality and inspire your visitors. Such pictures, as a rule, have a high definition, but not blurred, saturated, possess a wide color scheme. Using dynamic images, you can attract the attention of visitors and make them want to see more.
* Tip: if you post an album, slides or gallery, do not use all the images that you have at once. Filter them so that only the most dynamic ones remain.
illustrations for your site
Beach Chic Photography showcases one of their most inspiring works.
PERSON OR OBJECTS?
People are social creatures, so you can always attract them through the image of a human face. At the same time, you should not be afraid to cut the picture or emphasize any particular details to indicate the most important thing. Items can also be used to transfer information and make your site visually appealing.
Of course, if you are promoting products or design items, one of the main tasks at the site development stage will be to present these products in the most attractive form. This does not mean that you need to completely avoid using images of people. Emotions conveyed by the expression of a human face, can help you where you would like to call them or give something a certain value.
* Tip: if you are working on an online store and want to present your products in the most favorable light, try using more than one photo. You can demonstrate the product from different angles or add an image that demonstrates how to use it.
ADAPT
Suppose you have found the perfect photo for your site, but have found that it doesn't look as good on this page as you expected. No problems! You can use the image editor on the Wix website to edit and edit photos.
Cuts, editing, adding a mirror image, enhancing brightness and many other functions allow you to optimize images and give them the desired look. You can learn more about the image editor on the Wix website from the following article.