Professions of the future: who is a technical designer?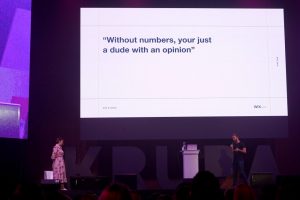 Often disputes arise between developers and designers – which of them plays the main role. Ask this question to the HR manager, and you will get an answer like, "Both teams are equally important." This is bullshit.
If you compare the product with a huge cruise ship, the development team will be something of an engine. It would seem that without a motor it is completely useless. But on the other hand, let's say you want to book a cruise. You do not care about the engine – you look at the photos of the ship, how the cabins are equipped, how high-quality the service is. Of course, for such a huge ship the engine is very important. But if no one wants to book a cruise because the design of the ship sucks, what's the difference, how good is its engine?
Design is not just important. He is vital. A person in just 5 seconds decides whether he likes what he sees. And usually, the first thing we come across is design.
10 years ago, perhaps you could launch a product without bothering about the design. It was important that he work. But then the experts did not have any data on how the design would affect the user experience.
Participate in every decision from day one
This helps save time, resources, and greatly affects the final product. If you are not invited to participate in these initial meetings, take the initiative. Ask and even demand your presence.
Today, most, if not all, companies are beginning to realize that design is no longer just an aesthetic addition. It has become a major factor in decision making. If a company wants to succeed, it must work with the designer from the first stages of product planning.
User experience is a combination of two elements:
Flow. This is what the user wants to get from the product, and what he eventually gets. There are only two options for the result – success and failure.
Design and content. The way the product looks, what sensations the user gets by interacting with him.
See also: Why in design it is important to tell a story
To succeed, you need to bring to the ideal both elements. That is why the designer must be present at all stages of planning and creating a product.
These conditions are something new in the design world. But the world is changing, and we must keep up with it if we want to stay afloat. Therefore, there are new professions, more complex and multifaceted. In the design, such innovations were technical designers – specialists capable of working through the design line from the planning stage to the final product launch. Their task is to make sure that the team does not forget about the convenience and needs of the end user.
So what should you do to become a good technical designer?
Collaborate with designers from related disciplines
A close look from the outside and learning new approaches and ways of thinking will improve your skills. Diversity is the key to creativity. As a web designer or UX designer, communicate with architects, interior designers, and clothing designers — with anyone in the design world. Then you can view your profession from all sides. You can learn from others and share your knowledge with them.
Do not look at your direction one-sidedly. You need to take your profession more widely, taking into account other areas of design. Then you can truly solve problems and create successful products.
Continually expand your knowledge and experience in various areas of design and content.
It's no news that the Internet is a great source of knowledge. Just use it. Today it is not enough to be an expert in any one direction. You need to understand how others work. Constantly study, develop and go beyond your comfort zone.
UX-designer in itself is not as valuable as before. Now he should at least understand something in motion-design, and in 3D graphics. And even in copywriting and content creation. The more you know, the more valuable you are as a professional. Why do you need it? In order to understand exactly how to create the best design, and how to properly apply yourself in communication with experts from other teams.